Dr. José Santos Dias
Clinical Director of the Instituto da Próstata
Bacherlor's Degree from the Faculty of Medicine at the University of Lisbon
Specialist in Urology
Fellow of the European Board of Urology
Autor dos livros "Tudo o que sempre quis saber Sobre Próstata", "Urologia fundamental na Prática Clínica", "Urologia em 10 minutos","Casos Clínicos de Urologia" e "Protocolos de Urgência em Urologia"






Online or Face-to-Face Appointments
Given the current constraints due to the covid-19 pandemic and with the concern and safety of our patients uppermost, we continue to offer face-to-face consultations while also providing continual support over the phone and online (by video or phone call). In this way, we can continue to provide the same excellent care our patients are used to… without leaving home!
How Can I Request an Appointment?
Patient and Relative Testimonials
After a high PSA test, a biopsy confirmed the worst scenario – prostate cancer. Dr. José Santos Dias calmed my nerves about the treatments and the prognosis. I did the right treatment at the right time, because I was lucky to find the right doctor. I did brachytherapy ... and returned to living life normally... cancer free. It's a marvel of technology and science.
RFJ, 68 years old
I couldn't believe it when my incontinence disappeared!! If you've never had it, it's hard to know what bladder leakage feels like. Thanks to the talents of Dr. José Santos Dias, I had a small operation and was able to return home on the same day. The problem was over after a day. Thank you so much.
JVS, 73 years old
Dr. José Santos Dias is the most compassionate and caring doctor I've ever met. He's been looking after my father for many years.
DSL, 42 years old
I couldn't have found a better and more compassionate doctor than Dr. José Santos Dias. Thank you for curing me and caring for me during this long battle.
ADM, 74 years old
At the Instituto da Prostata I found a technically competent team that was very up-to-date with new treatments.
HPS, 66 years old
Thanks to prostate brachytherapy at the Instituto da Próstata my serious disease was cured.
JTA, 65 years old
Dr. José Santos Dias is not just a doctor. He's now my friend.
PSC, 68 years old
My life changed after laser treatment with Dr. José Santos Dias. I didn't have any more sleepless nights. I could travel again with my wife without worrying about getting to a toilet on time. All the issues that made life unbearable went away.
CDR, 64 years old
Dr. José Santos Dias has been my doctor for over 10 years. He cured me of prostate cancer and I'd like to thank him for the fact that I barely remember having had it.
MPS, 72 years old
About the Instituto da Próstata
At the Instituto da Próstata, we diagnose and treat patients with urological issues. We offer all existing exam and treatment techniques for every clinical situation.
Where can you find us?
Rua Castilho, nº 71, 1º Esq.
1250-068 Lisbon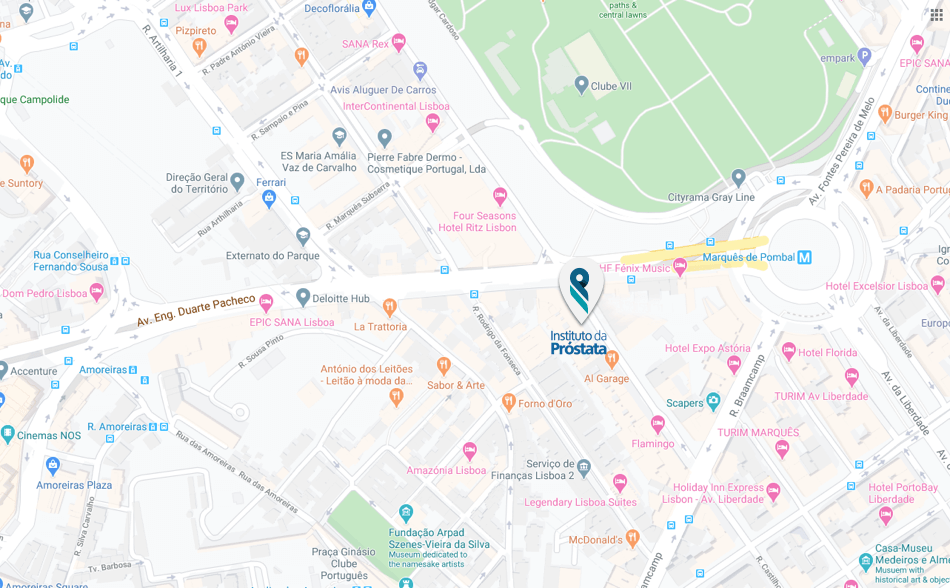 © 2020, Instituto da Próstata - Todos os direitos reservados. Registo ERS - E115932 | Licença de Funcionamento ERS - 15261/2018
Website desenvolvido por Made2Web Digital Agency